Vaccines:
Rabies, Distemper (frequently written as DHPPV, DHPP, DA2PP, or DA2PPV on your pet's health records), and Bordetella (kennel cough) Vaccines (6 month or yearly)
A clean fecal float is also required, and must have been performed in the past 6 months. Titer protection may be substituted for the distemper and parvovirus vaccinations.
BDI requires a veterinarian certificate indicating proof of vaccinations for at least 7-10 days prior to boarding.
OUR FAX NUMBER: 207-865-1255
OUR EMAIL: INFO@BROWNDOGINN.COM
Flea & Tick Prevention
Use of MONTHLY Flea/Tick preventative IS MANDATORY. Any pet entering the Brown Dog facility MUST be free of external & internal parasites. Any pet found to have fleas while in the care of BDI shall be immediately quarentined, given the oral medication Capstar & have topical Frontline Plus applied. A Parasite fee of $85.00 shall then be charged to the pet owner.
Emergency Care
We require a Mastercard, Discover or Visa on file for ALL Boarding animals for emergency care purposes.
If your dog becomes ill while you are away, we will contact you and your veterinarian immediately.
In case of emergency during regular business hours, we will transport your dog to the nearest veterinary clinic. After hours and on-weekends, as needed, we will transport your dog to a 24 hour Veterinary Emergency Center.
BELONGINGS
The BDI provides beds, blankets, water and food bowls for our guests. Please refrain from bringing belongings from home. The BDI is not responsible for any lost or damaged items. We will make sure your pup is comfy-cozy and has everything they could ever want!
CHECK IN/CHECK OUT Hours
MONDAY -FRIDAY WINDOWS
8AM-11AM
3PM-6PM
SATURDAY WINDOW
8AM -11AM only
SUNDAY WINDOW
2PM - 5PM only
THE LOBBY IS CLOSED FROM 11AM - 3PM EVERY DAY. (except Sundays, Closed til 2pm) SORRY THERE ARE NO EXCEPTIONS. PLEASE RESPECT OUR HOURS, JUST AS YOU WOULD FOR ANY OTHER BUSINESS.
Information
The Brown Dog Inn
From Head To Tail!
We do not offer Tours
We are very proud of our facility and the outdoor space we have designed and created for optimal doggie bliss! We try our best to keep our guests calm and happy during their stays. We have an open concept facility and having several "strangers" walk through the eating, sleeping, and play areas each day causes our pups lots of undue stress! (Imagine many people & children walking through your home each day!) As a home and a business, open 365 days a year, we thank you for your understanding and respect! We do have cool photo booklets with images of our rooms and beds in the lobby for your perusal, not to mention lots and lots of facebook & Instagram photos to showcase the fun!
What if my dog is not friendly with other dogs, Can he still BOARD?
We will request a trial day and he will be assessed. If it is determined our environment is not too stressful for him, he will be let out on his own to play without the company of other dogs. for the extra time and staffing required to keep your baby happy and safe, assuring a stay full of love, attention & exercise. (Fee: add $10 per day). We may reccomend additional BDI extra services like Nature Trail Walks, Cuddles, and/or Individual 1-on-1 Playtime activities for these guests.
How Does BDI deal with power outages?
Brown Dog is fortunate to have a monster of a generator that can power our ENTIRE facility with Heat, A/C, Hot & Cold water & ALL lights required to run our facility as "normal." We do loose phone lines off and on, so some credit card processing may be limited. But rest assured, your pets are warm & cozy even when your power is out at home! We are ALWAYS willing to help out when you need a last minute emergency place to board your pet so if our phones are down, just stop by & we will do our best to help out.
During storms & power outages up to the hour updates can be found on our FACEBOOK PAGE.
Payment
We accept Cash, Check, Mastercard, Discover and Visa. Being a small business, we prefer cash or check when possible! :)
Meet & Greets
By appointment only, once we have recieved your Registration Form/Vet Records, we are happy to greet you and meet your pup! The interview lasts from 11am - 3pm (or 8am-5pm). They are scheduled Mon - Thurs and cost $20/$30 per dog. The goal is to assure that all guests are comfortable, can follow the packleaders & show no signs of aggression. PLEASE NOTE- the close proximity to our neighbors requires that we also access for excessive barking (especially at night time). Most dogs leave happy, waggy, tired and beggin' to come back!
Meals
Owners must bring their own food to avoid changes in the dog's diet which can lead to increased stress and stomach issues. Individual meals must be packaged in zip-lock bags per length of stay. Larger containers for stays longer than 10 days are accepted. Edible treats are welcome. No rawhides allowed.
If you do NOT bring food for your dog, you will be charged $4 per meal for our house food (Taste of the Wild: Grain- free and regular).
*Please refrain from bringing glass/ceramic containers of any kind
**Brown Dog provides all dishes and bowls, measuring scoops.
ZERO TOLERANCE
The safety of your dog is our top priority. For that reason, we have a ZERO tolerance aggression policy. If your dog shows aggression toward any other dogs at the Inn, they will be removed from the daycare until you are able to get them at the end of your day, and will not be allowed back into the group daycare setting. You may still drop your dog off for boarding, but we will put them on solo walks and playtime for the safety of the other dogs in the facility. We understand that a group play environment is not good for each and every dog, which is why we offer solo walks and playtime for those that sometimes do not play well with others. Added fees may apply (see above).
Medication
If it's important, please bring it! Make sure medication is labeled and clear dosage instructions are included. (Name, dosage, time, how best to administer, etc). Daily Medication fee: $1 per med, and up to $5 standard fee for ear cleaning, bandage/wound cleaning, eye drops, injections and other medical care etc.
Age
All dogs must be at least 6 months of age to join our boarding program. Some exeptions can be made if they have the required vaccinations, please call to chat about your puppie's needs. We do not recommend daycare for geriatric dogs.
Spayed/Neutured
All dogs must be Spayed or Neutered between 6- 8 months of age. We do not allow un-altered adult dogs in group play.
Release
We will only release your dog to people listed on your boarding contract, if you know someone new is picking up your dog, please have us add them to your account.
NO Check in/out ON MAJOR HOLIDAYS*
Requirements
Bordetella
Distemper (DHPPV, DHPP, DA2PP, or DA2PPV)
Rabies
Negative Fecal Float
Monthly Flea & Tick Preventative
TURF
Easily sanitized and soft on those paws! No more chewing rocks, woodchips or sticks. No muddy paws jumping into the car! = AWESOME!

Off Hours fees
Boarding dogs MUST be picked up BEFORE closing time each day. There are NO after hours pick-ups. Any pup that is not picked up shall be boarded for the night & be charged. If for any reason a pick up or drop off occurs outside our normal business hours a $35 fee will be incurred. NO EXCEPTIONS. WOOF! Please respect our hours, as you would for any other business.
Facebook and Social Media
We get to look at cute doggies all day long and think you should, too! Our fabulous PackLEADERS take pride in their pho-dog-raphy skills and are happy to share their gems with BDI's wide FB audience. This fun activity allows us to share a glimpse of the daily activities! Keep in mind, each guest is having a super-duper time even if it's not captured on camera! Follow us here! And here! Enjoy!
*HOLIDAYS
BDI IS CLOSED TO THE PUBLIC FOR THE FOLLOWING DAYS:
Memorial Day: 5/27/19
Independence Day: 7/4/19
Labor Day: 9/2/19
Thanksgiving: 11/28/19
Christmas Day 12/25/19
New Year's Day 1/1/20
Office is subject to close early the day before major holidays. Please check with the front desk!
We are a PEANUT-FREE facility!
We have staff members that are allergic! Please refrain from bringing anything that contains peanuts into to the Inn. We do have peanut products in our in house Kong treats, because we can assure the correct labling, handling and cleaning required to keep all our humans safe! You may select this treat for your peanut lover from the snack cart during check in!
An Aggressive Dog Fee will apply
Can my puppy stay at the Inn?
We welcome puppies who have completed the full series of vaccinations, including the rabies vaccine, no less than 72 hours (three days) prior to their scheduled stay. Our puppy care overnight or day care boarding programs provide the essentials your puppy needs during this critical development stage. We will watch over your "little one" with extra TLC, special attention and nurturing activities designed to help ensure he or she grows into a confident adult dog. To ensure the utmost health and happiness of your puppy, participation in our puppy care overnight or day care boarding programs is required for overnight puppy guests 13 months and younger. Puppy boarding is

$57/per

night.

Puppy

Care Includes:
Meals three times a day, as recommended by veterinarians for growing puppies
Additional daytime and nightime outside potty breaks to reinforce good housebreaking habits
Extra care and attention to enhance socialization skills

Sani-cleans for clean tushes!
Special puppy boarding accommodations and bedding to ensure puppy guests enjoy a safe, healthy and
Reservations
We require reservations for dayboarding and boarding. MAKE ONE FOR YOUR BABY, HERE!
Dayboarding: Our dayboarding/daycare is reserved for our boarding clientele who wish to practice before their stays, between the hours of 8pm -500pm. Sadly, we no longer offer regularly scheduled daycare services, effective July 1, 2017. If you have a need for day services, between 8am - 500pm, we may be able to book you, please call or email for availability! We made this change due to our growing overnight clientelle and we thank everyone for spreading the word about the wonderful boarding experience we offer for our beloved furry guests!
Boarding: Brown Dog has waitlists for our peak season June 15 - September 15, most ski weekends, School Vacation Periods and ALL holidays. We fill up quickly, please plan in advance!
Cancellation Policy/Deposits
-Non-refundable $50 deposits required for all boarding reservations. (For family suites/2 or more dogs, the deposit is the cost of one nights stay.) NON HOLIDAY
-Non-refundable 50% deposits required for all boarding reservations. HOLIDAY/SCHOOL VACATIONS/PEAK SEASON
-Non-refundable 50% deposits required for all boarding reservations over 1 week long. YEAR-ROUND
**LIST OF HOLIDAYS (SEE ABOVE SECTION IN YELLOW), PEAK SEASON (JUNE 15-SEPT 15)
Deposits are non-refundable. Don't feel comfortable with this? We kindly ask that you do not reserve your spot just yet. We are a small business and we love what we do. In order to stay around to provide our services we need to reserve spots only for those that truly plan to use them. It's that simple!
-Holiday Stays - You may pick up early, but you will be charged for the length of the original reservation.
We offer 1, 2, and 3+ week immersive Resident Stay & Train prgrams coupled with 1 on 1 owner handling lessons to send both owner & dog home for success. (Puppy, Basic Obedience on-leash, & Advanced On + Off Leash). If you are interested in our overnight training programs, that's awesome we are thrilled! Please fill out our training contact info on the Training page.
How can I learn more about BDI Training Programs?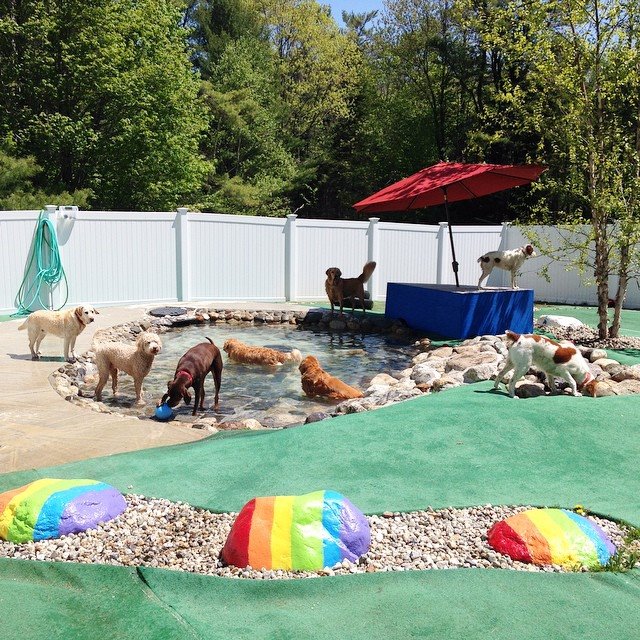 Pick Up for Meet & Greets

-
Unless you have made other arrangements, the two options of p/u are either 3pm, or between 3-5pm.