Founded in 2008, has a simple mission and simple goals: provide care and find homes for surrendered pets and found animals, as well as offer education and support services to the public regarding the treatment of animals.
Here at Brown Dog, the success of our pet care operation depends upon the people caring for the dogs in our care. The pet's wellbeing and comfort are always the number one priority with our staff. We are all dog fanatics, ready to spoil your dog with unconditional love. We enjoy working together as a team to build a professional, positive, protective and happy environment. Our employee bios are proudly displayed in our doggie lobby because we value building relationships with families we will come to know over the years. It is our priviledge to be able to care for your babies from their puppy days into their golden years. We welcome you into our furry family and thank you for sharing your best friends with us! XOXO
A Note from our pack to yours...
Tanya - Top dog, Innkeeper, Mother Hen & Snuggler!
Starla - Front End Manager & Lead Dog Trainer! Most importantly, expert dog impersonator!
Dani - Fill in Reception, New Mommy to human baby and 3 fur babies! Traveler of the world and history buff!
Narrissa - Leader of the pack, tiny dog hoarder & Social Media. She's Tanya's human baby!!!
Coconut a.k.a. Brad Pitt - Resident Brown Dog & Lap Warmer
Roseanne- The best doggie pack leader of all time! She takes the cake with her Zen energy and best smile!
Erin - Office gal! 14 years of experience in dog care!! Weight-lifting champion - she's one tuff cookie!
Andrew - Handsome attorney and husband to Narrissa. Trail runner! Expert in Dog Law.
Anastasia- Zoo Keeper! Seasonal BDI Packleader. Loving packleader to 5 German Shorthaired Pointers at home!!! Insane phot-dog-rapher skills!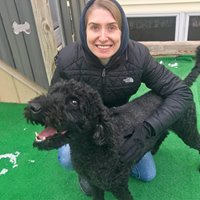 Rachel - Dog Spa specialist! She is the ultimate pampering packleader! Her loving arms await!
Renee! Part time packleader with a full time personality! She's a star and dogs are her best audience!
Natascha - Adorable and good at math! Loves caring for pups and cuddling - make your appoinmtent now!
Sierra - Our part time vet tech in training! Loves nature walking with the pups!
Sarah - This cutie is the life guard on duty! She also has uncanny knack for work party guessing games and wins all the prizes!
Timber- best doggie babysitter! Reads the pups unlimited stories at bedtime and gives snacks!
Elise - Cool new afterschool packleader! She knows dogs and she knows how to remove giant pickle-barrel covers like no other! That is to say, she has many hidden talents!
Rachel R. - Office gal and packleader! Lions and Tigers and dogs, oh my! This lover of dogs is also a lover of cats - really, really big cats! After she cared for Tigers in Texas she returned home to Maine - lucky for us, this lovely purr-son is here to stay!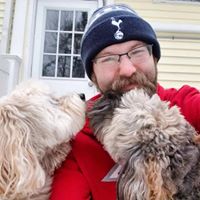 Madi - Our vet tech in training! Happy and full of energy - she is sure to give your pooches an amazing day of play! Fun factoid - she is a mac & cheese fiend!
Nick - A friend to all creatures great and small! With kind and quiet energy, he will win over the hearts of every dog! We are a fan!